May 30th, 2016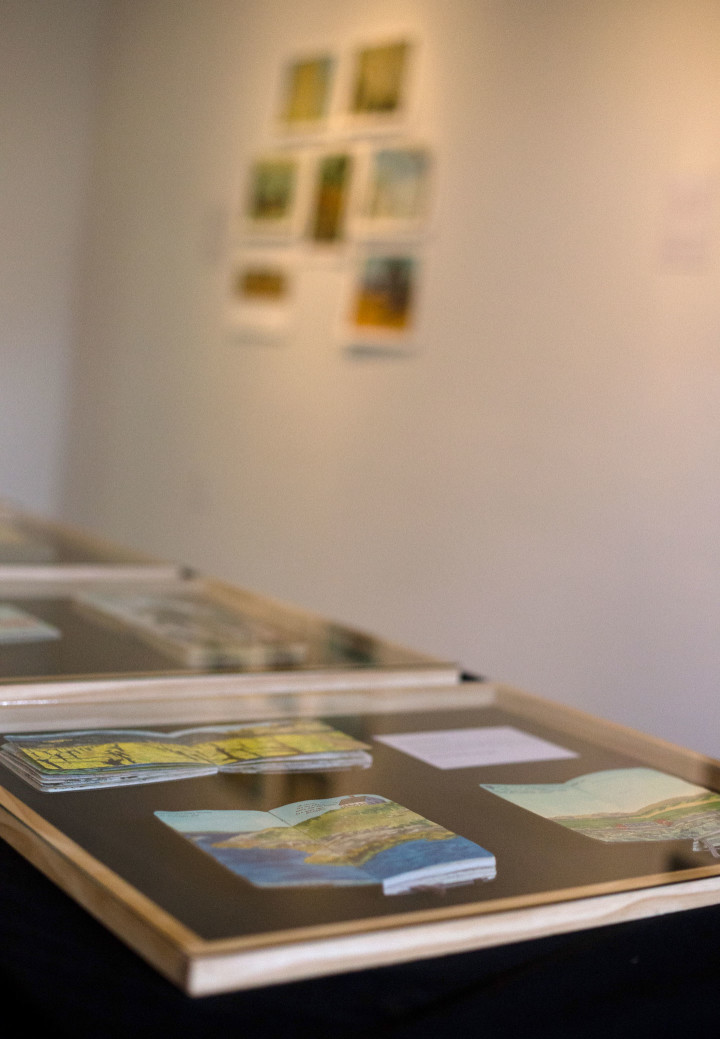 Photo by Shawn H. Nichols, taken at Artist Trust on Tour: Tacoma
If you happen to be in or passing through Tacoma soon, I've got a new show of sketchbook drawings up right now, at the brand new Feast Arts Center on Hilltop.
Like the way I do it on my travel blog, the images in the exhibit are arranged thematically rather than chronologically—this made curating the show something of a challenge, since I have frillions of drawings to choose from. So I did a practice run on my living room floor, with a notebook in hand to jot everything down (seems fitting!).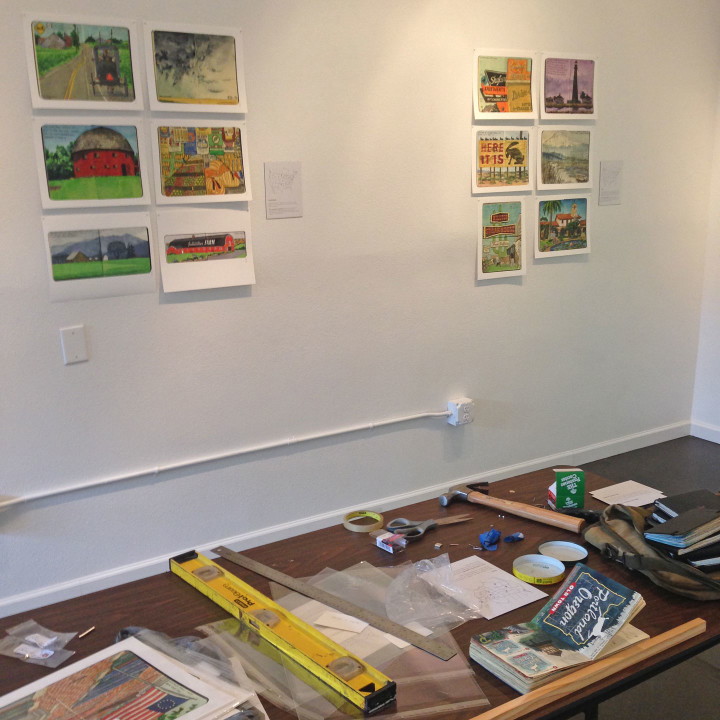 That ended up being a really good idea, because pre-arranging everything beforehand made the installation of the show much, much easier. All I had to do was measure and level everything, rather than try to make any aesthetic decisions on the fly. Still, you can see from the above photo that hanging a show is always a big, big mess—no matter how prepared I am ahead of time. Everything is total chaos until the last possible moment!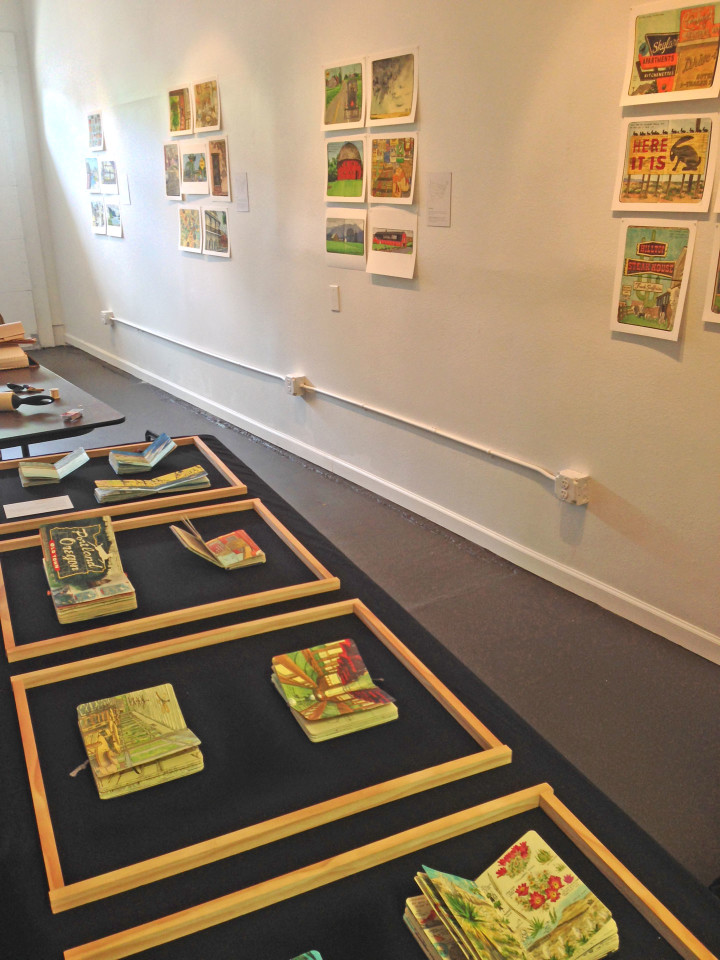 The show consists of ten original sketchbooks, paired with reproduction prints hung on the walls of the gallery. Displaying original sketchbooks is always another challenge, since it's only possible to show one page at a time, and the books are delicate enough that they can't stand up to constant handling during the show. But the folks who run Feast, Todd Jannausch and Chandler Woodfin (yes, there are two Chandlers involved here!), had the great idea of displaying the books in unobtrusive, handmade glass tabletop cases.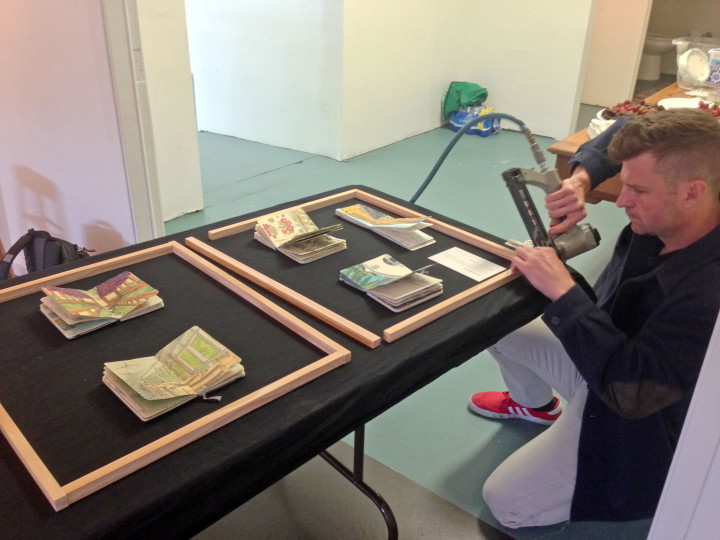 Here's Todd putting one of them together—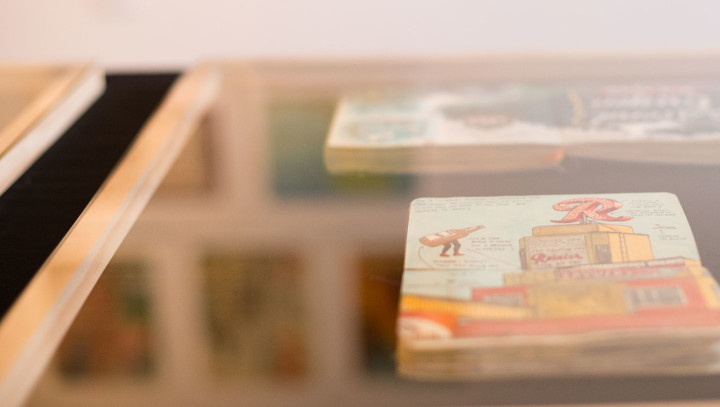 the end result is sleek and professional, and it made it easy for me to come in and turn the pages of each sketchbook once a week or so, to change things up during the show's run and give folks the chance to see multiple pages over time.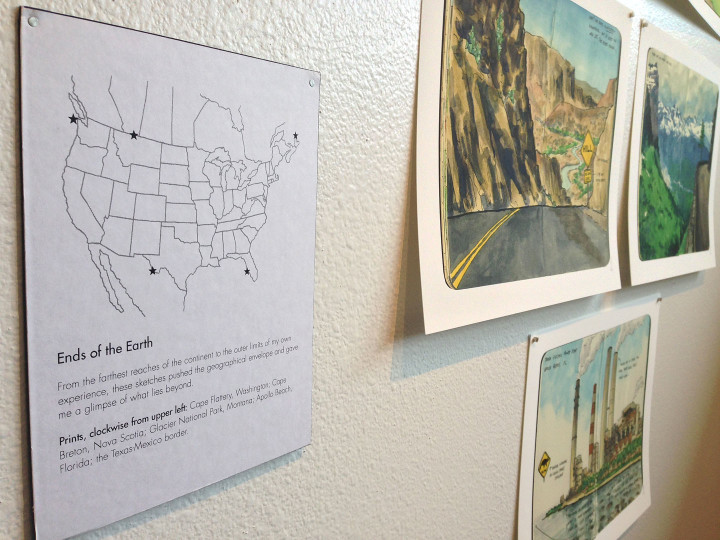 These little map cards tie everything together, providing a little context behind the drawings and explaining my rationale for the themes I chose for the prints.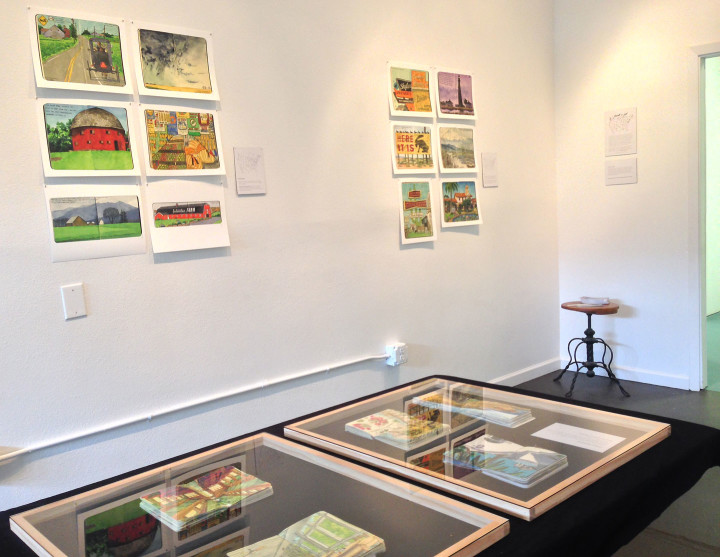 I'm so pleased with how the show came together—this has quickly become my very favorite solo show. So major thanks to Todd and Chandler for making it happen and handling the logistics!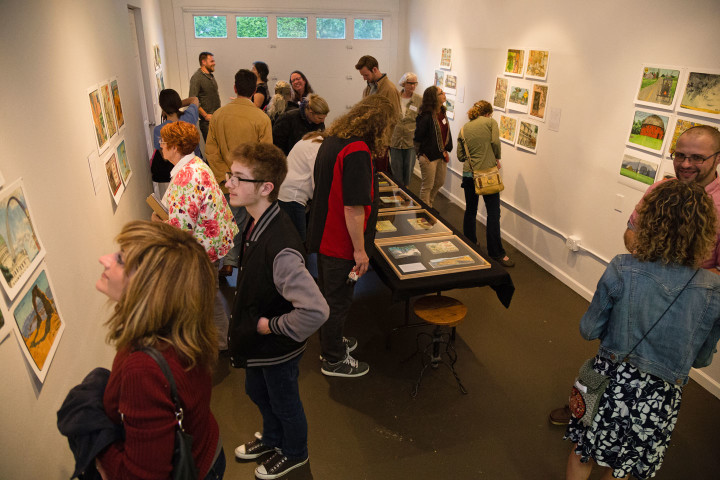 Photo by Shawn H. Nichols, taken at Artist Trust on Tour: Tacoma
As an added bonus, the folks at Artist Trust, a statewide arts organization, hosted an event to tie in with my exhibit opening. Since Artist Trust recently funded me with an artist grant to continue my sketchbook work, they asked me to speak about my process at the opening. I brought my very first travel sketchbook with me, and it was great to talk shop with the crowd that showed up that night!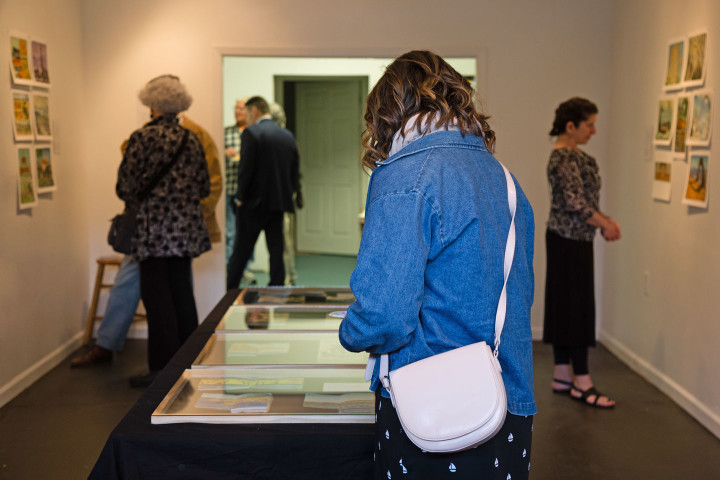 Photo by Shawn H. Nichols, taken at Artist Trust on Tour: Tacoma
The show closes on Sunday, June 12—here are all the details, if you're looking to visit:
Jaunt + Jot: a solo sketchbook exhibition by Chandler O'Leary
May 19 through June 12, 2016
Feast Arts Center, 1402 S. 11th St., Tacoma, WA
Open Saturdays 12 to 4, Sundays 9 to 1, or by appointment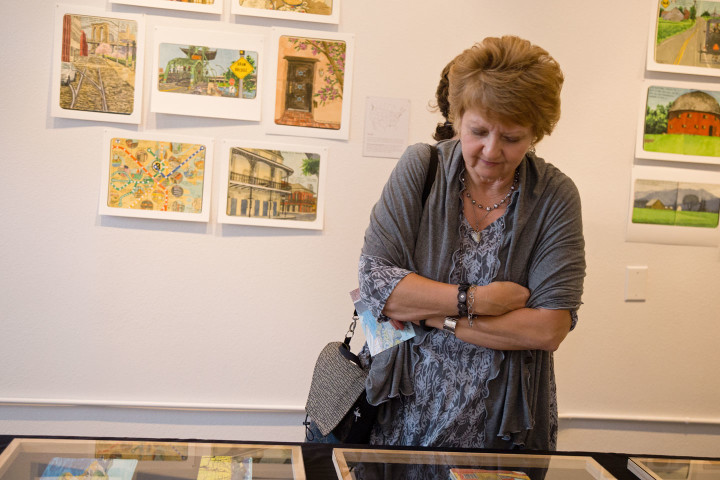 Photo by Shawn H. Nichols, taken at Artist Trust on Tour: Tacoma
Or if you'd like to try your hand sketching yourself, Feast, Urban Sketchers-Tacoma and I are hosting a special ad-hoc sketch outing this Sunday, June 5, as part of Feast's Sunday Coffee series! The event is free and open to anyone who would like to try their hand at urban sketching—no prior experience is necessary, and all you need to bring are your own sketch materials (paper or sketchbook, pen or pencil, watercolors, or whatever you like to use).
Here's how it works: Feast Arts Center will open at 9 am on Sunday, so visitors can see the exhibit. Anyone interested in sketching will gather at 10 am at Feast for a quick meet-and-greet. We will then split up and sketch around the Hilltop neighborhood; you can choose to stick around Feast, or wander farther afield and sketch whatever strikes your fancy. Some people sketch in groups, others go off by themselves. Then we'll all meet back at Feast at 12:30 for an informal show-and-tell of our sketches. This part is completely optional (so if you're nervous about showing your drawings, you don't have to!), but it's always fun to see everybody's different styles, materials and points of view. Feast will remain open until 1 pm. Here are those details again, in digest version:
Ad-hoc Sketch Outing, sponsored by Urban Sketchers-Tacoma
Sunday, June 5, 2016
Feast Arts Center (open 9 to 1)
1402 S. 11th St. Tacoma, WA
1. Meet at Feast by 10 am
2. Sketch in and around Hilltop
3. Show & tell at Feast at 12:30
Please note that this is not a class or workshop, so neither I nor any Urban Sketchers members will be offering instruction. But this is a great opportunity to meet other sketch artists and find inspiration. People tell me all the time that they'd love to try sketching, but aren't sure where to start. This is a great way to get your feet wet amongst friends—so don't be shy! Grab your pencils, and we'll see you this Sunday!
Creation of this work was made possible in part by Artist Trust Grants for Artist Projects. Special thanks to Artist Trust, Feast Arts Center, School of Visual Concepts, and Urban Sketchers-Tacoma.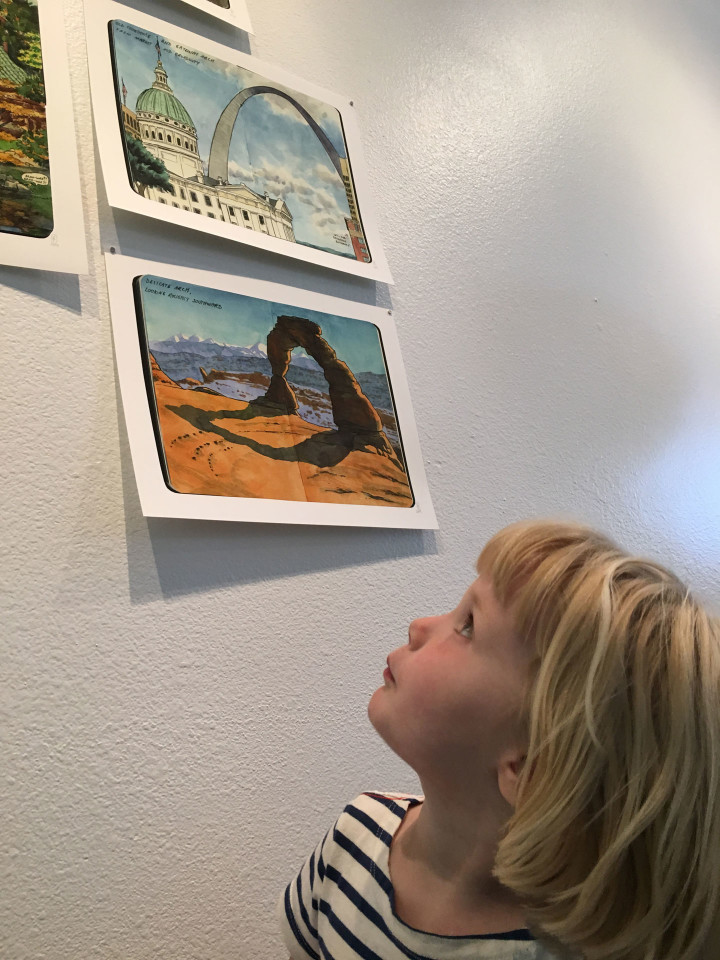 Photo by Mary Holste.