May 26th, 2015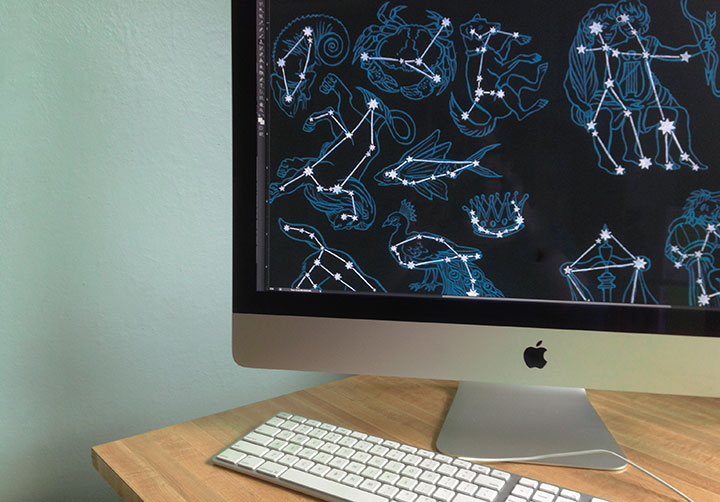 I tell you what, this has been the year of long-term projects coming to fruition. There have been so many things I've had to sit on for months, and it feels so good to finally be able to share them with you! And the one pictured above might just be my favorite of all.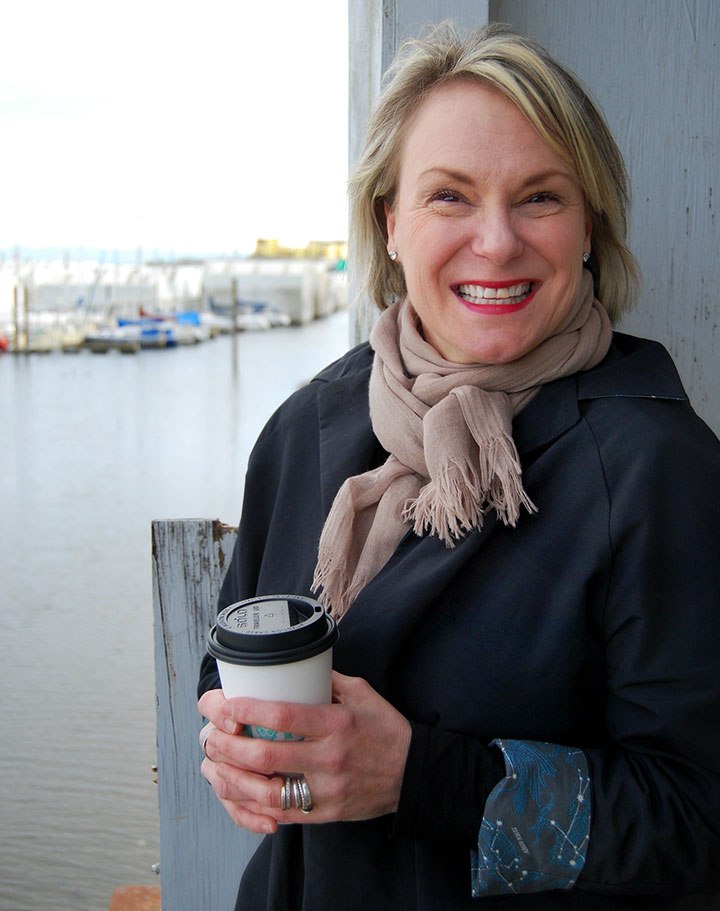 Photo by Summer Hess Briggs

This is my friend Sonja Silver. She's a dyed-in-the-wool Tacoman, and has owned a women's clothing boutique here for nearly two decades. Over the years, she's watched women of all shapes and sizes come through her shop, and has developed a keen eye for clothing that's both well-made and well-designed. But she had a gap in her business: for years, her customers had been asking for coats and jackets, and Sonja had never been happy with what was available in the marketplace.
So she has spent the last year designing her own.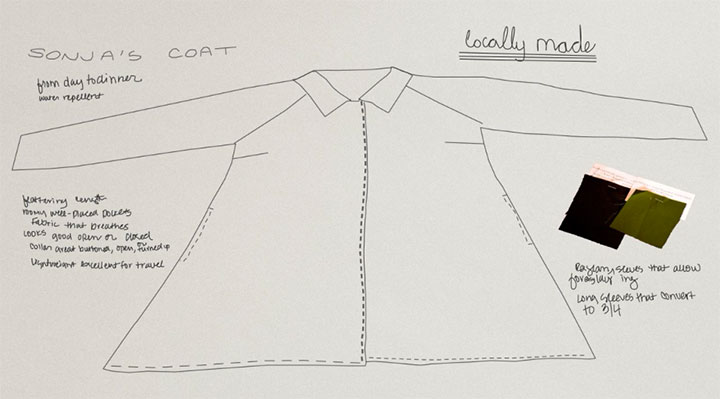 It turned out to be quite the challenge—Sonja was inspired by the classic swing coats and car coats of the 1950s, but wanted the hard-wearing functionality of an outdoorsy shell. Basically, her goal was to make something that was both a workhorse—and a thoroughbred. After all, we live in the Pacific Northwest—we wear jackets pretty much all the time here, in all weather.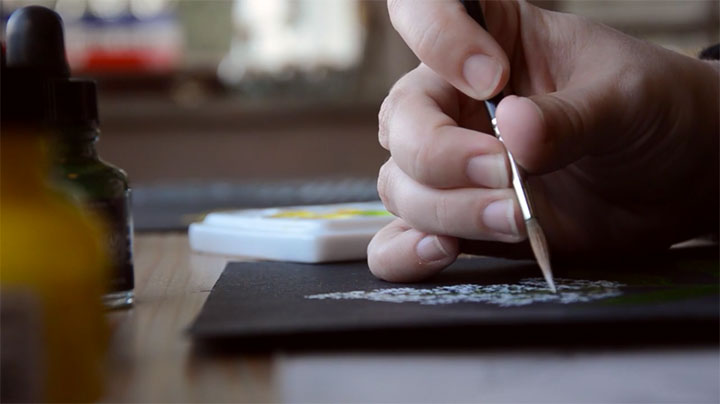 Here's where I come in. Sonja called me up one day last spring, and told me about her coat project. She said she wanted the coat to be lined with fabric that was as unique as the design of the coat itself, and asked me if I'd be interested in illustrating a pattern repeat for her.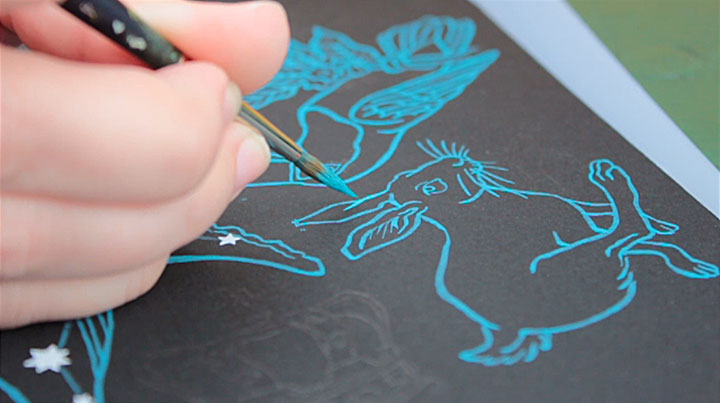 Needless to say, I didn't so much say yes as squeal it.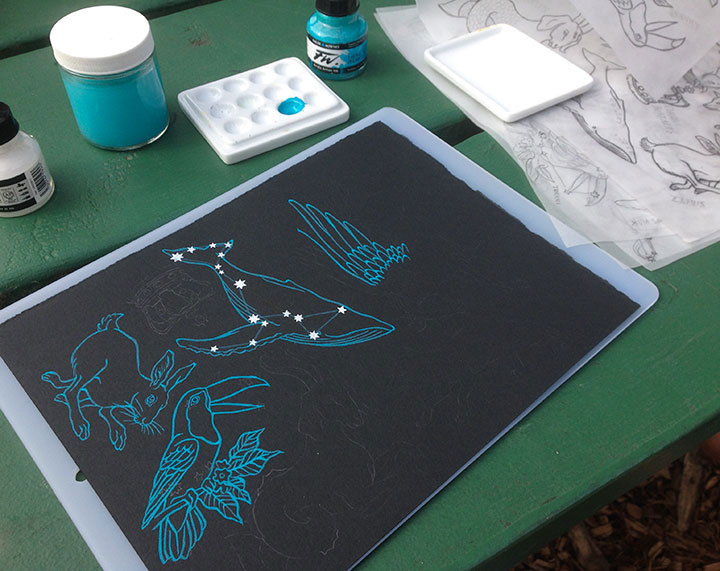 Sonja had the idea for a constellation pattern—something that could be both playful and sophisticated at the same time. We both wanted the pattern to be hand-painted, to help transform the coat into a piece of wearable art.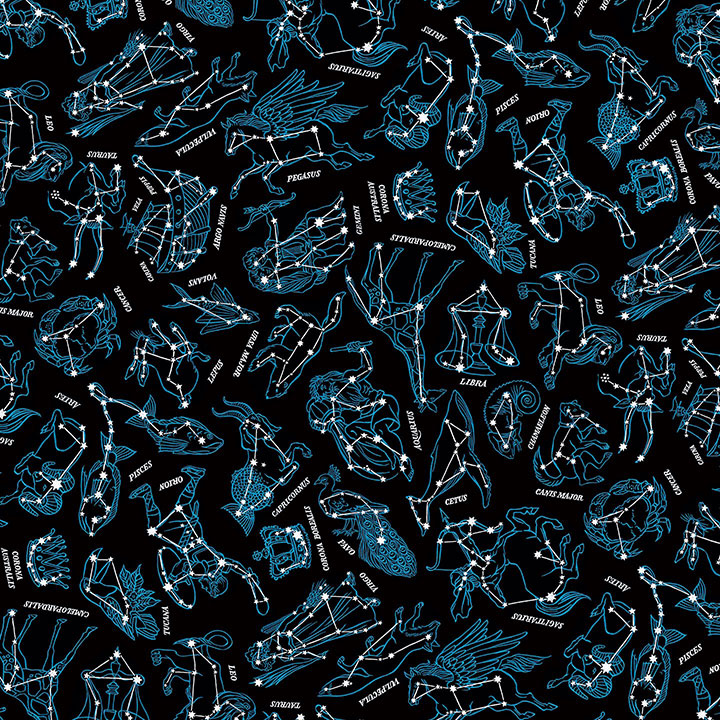 Here's the finished pattern. There are 27 different constellations represented, including all 12 signs of the zodiac and some perennial favorites from the skies in both the northern and southern hemispheres.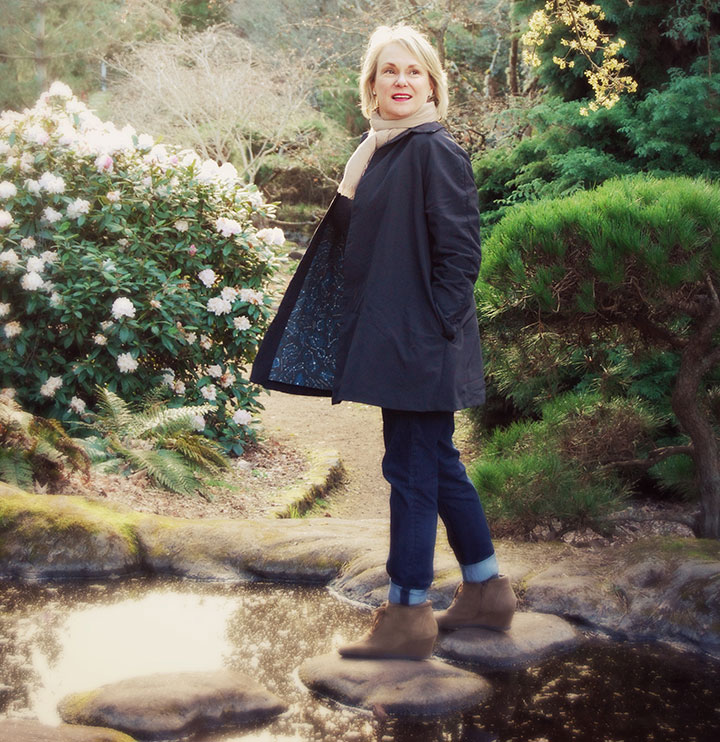 Photo by Summer Hess Briggs

What I love best, though, is seeing the pattern "in action," doing its job as part of the garment. While I was painting fish and birds and Greek gods, Sonja was hard at work on creating a working prototype of the coat. She went through many different test fabrics and design changes, trying the fit on women of all shapes and sizes to make the design as universal and versatile as possible.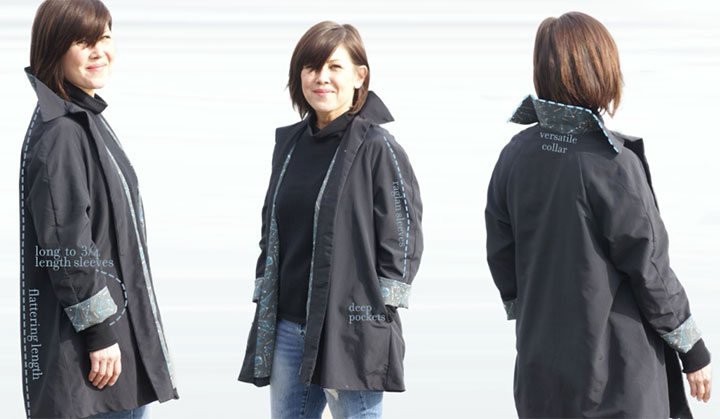 Photos by Kathy Chakerian
And now, at long last, it's ready for production!
Sonja has launched a Kickstarter campaign to raise the necessary funds to produce the coat, and it's officially live and up and running. The campaign will run until June 16, and we're already 1/4 of the way there!
This is the third Kickstarter campaign I've been a part of (you can read about the other two successful projects here and here)—for those of you who might not know how it works, a campaign is run like an NPR pledge drive, with tangible rewards offered in exchange for each funding level. So this is not a donation platform—it's an exchange of goods for capital. We must make our funding goal by the time the clock runs out, or we don't get any of the funding already pledged. It's an all-or-nothing thing, and that ensures that the project will be done right, with enough capital to get the job done. And to make sure she doesn't get overwhelmed by too many orders all at once, Sonja has limited this first production run to 200 coats.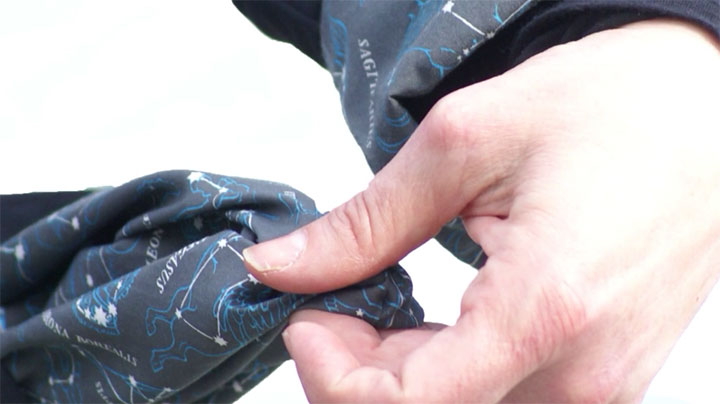 That reminds me: a note about the prototype featured in the Kickstarter campaign. The fabric used for the lining was just a test fabric we had made in a small quantity when we were looking for manufacturers. We weren't happy with the black background of that fabric, as it turned out a little on the light side. So while you'll see it in the Kickstarter video, we ended up going with a different manufacturer for the final lining fabric.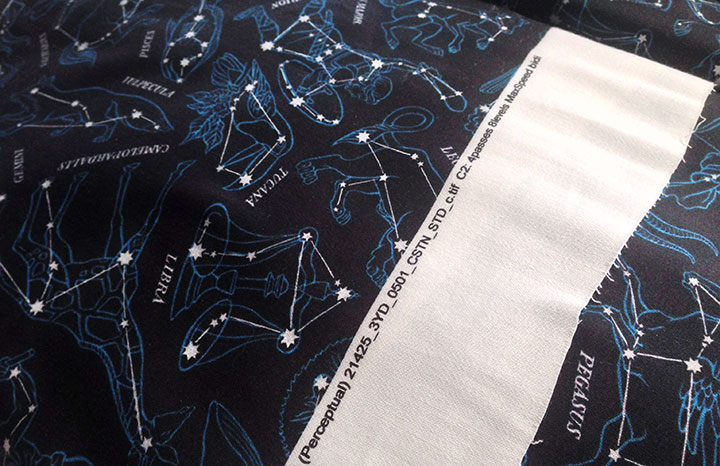 Here's the real thing—the actual lining fabric that will be used in the finished run of coats. As you can see, the black is a true black, and the pattern pops from the background the way it's intended to.
The best part of Sonja's vision here is that this project has been brought about almost entirely by local women. From apparel design to illustration to construction to marketing, it's local women who have made this thing happen. In an age where the vast majority of all garments are made overseas, in sweatshop conditions, that's really saying something. Sonja's coat is made with fabric sourced and printed in the United States, and the garment itself is pieced and sewn right here in Tacoma. I love being able to say that—I love being able to put our beliefs into action in this way.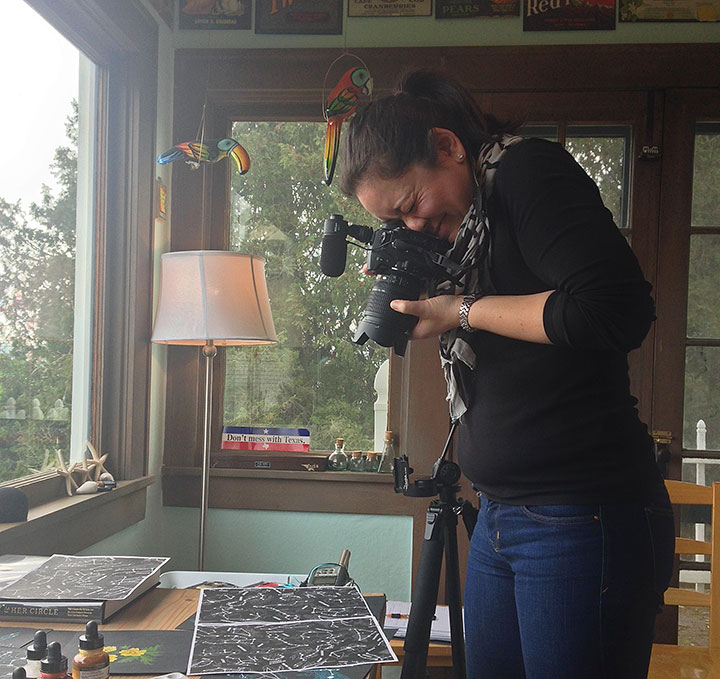 The Kickstarter campaign even has a fantastic video made by a local gal—the lovely Emilie Firn (shown here snapping photos of my process materials in my studio).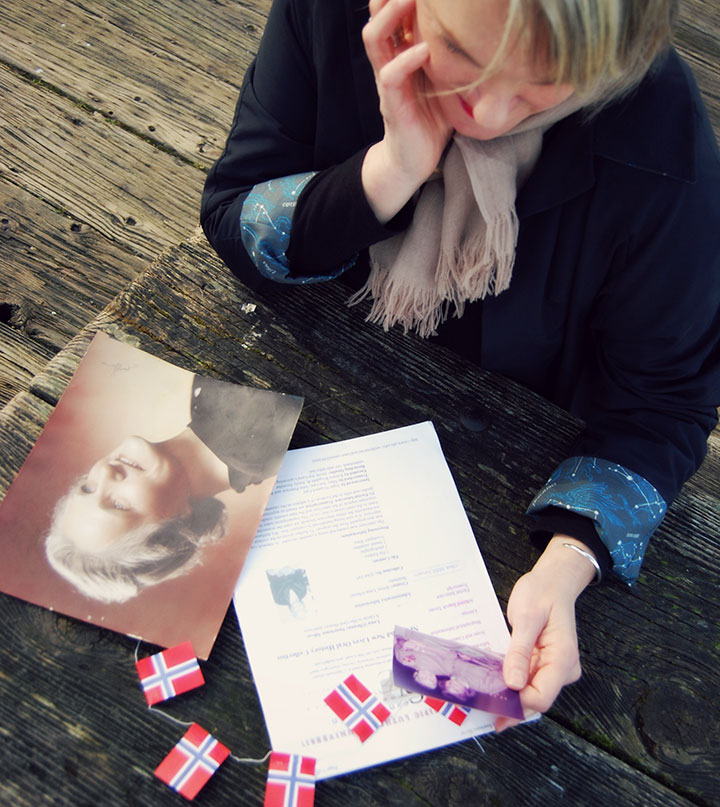 Photo by Summer Hess Briggs

And last but not least, one other local gal has had a "hand" in the project: Sonja's grandmother Lena, who was the inspiration for the coat. Sonja says her goal was to make a coat that had the same attributes Lena had: she's hardworking, she's beautiful, and she's got your back.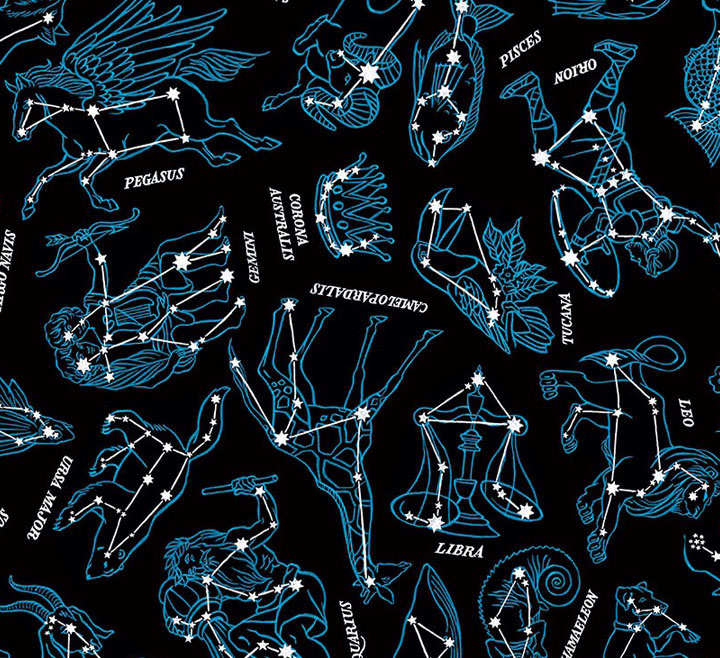 So if you're looking for your next go-to jacket, or you have a woman in your life who is, visit our Kickstarter campaign and make a pledge! And if a coat isn't your thing, there are many other pledge levels and reward goodies to choose from. Even a pledge of $1 helps move the project forward and gives us better exposure online (if all my social media followers and email newsletter subscribers pledged $1, we'd instantly reach the halfway point of our goal!)—and of course, helping spread the word through your social media platforms will also help us meet our goal. But most of all, we just can't wait to see women wearing the coat, out there in the real world. So take a gander at the campaign and snag your coat here!
Thank you for your support!