October 17th, 2017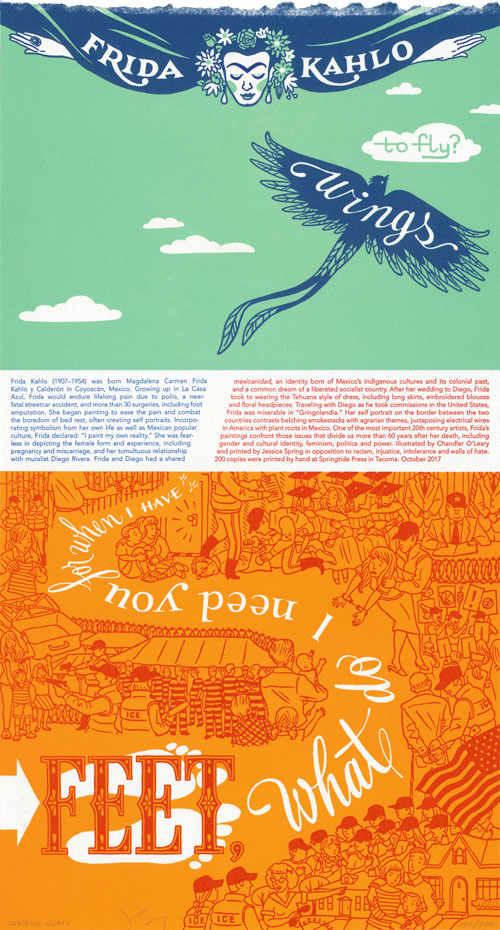 Well, here we are. Our book has been out for a year, and already (for us, anyway) it has transformed from a celebration of women's accomplishments to a laundry list of battles in need of fighting all over again. The new president has been in power mere months, and already he and his toadies have singled out the most vulnerable among us to be blamed, excluded, punished, even crushed. As artists, we feel our path is clear, our work is cut out for us: the hard part is choosing where to start, upon which injustice to focus first. In the end, the oppressors chose for us, with a seemingly endless succession of outrages against Latino-Americans and Central-American immigrants: the border wall, ICE raids, the DACA repeal, Joe Arpaio's tent cities and later pardon, the list goes on. And since nobody spoke truth to power like Mexican artist Frida Kahlo, who better to preside over this broadside?
Feet, what do I need you for when I have wings to fly?
Frida's life story is the stuff of legends, and one that many of us know by heart. So rather than travel the well-trodden ground of her accident and illnesses, or her relationships with Diego Rivera and famous men and women of her era, we paid homage to Frida's artwork instead. (Even our edition number is symbolic of Frida's body of work: she created approximately 200 paintings in her lifetime.) Estados Divididos is largely inspired by two of Frida's paintings: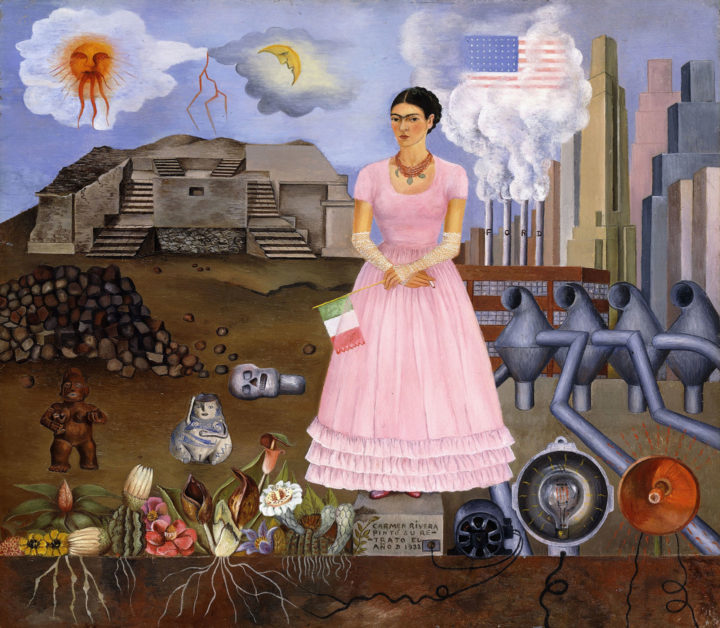 The first is Self Portrait Along the Border Between Mexico and the United States, which she painted in 1932 in Detroit, while Diego worked on a mural commission there. It's painted on tin, in the Mexican folk tradition of retrablos or devotional paintings. She signed the piece with the name Carmen Rivera, perhaps as a tongue-in-cheek response to the way Americans would have referred to "the wife of the artist." Interestingly, Diego insisted that she was the real artist in the family, calling her "la pintura más pintor," using both the feminine and masculine form of the word painter in reference to her prowess (and possibly her androgyny, as well).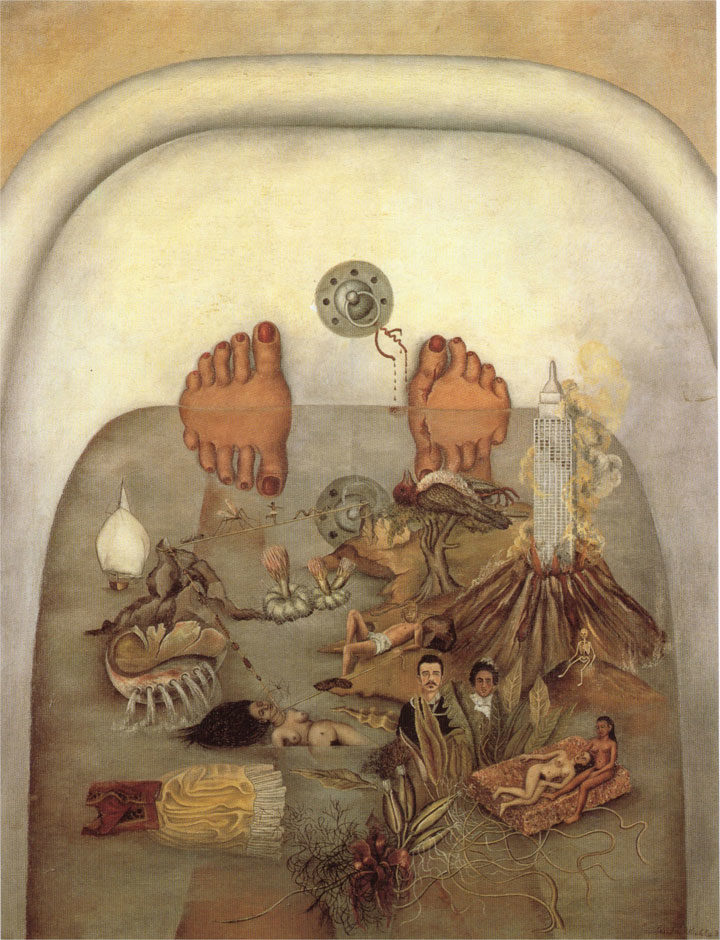 The other painting that inspired our broadside is What the Water Gave Me, painted in 1938. This is the first Frida Kahlo painting I (Chandler) ever saw—and it has, in a way, haunted me my entire life, even as my understanding of it has grown and changed as I've aged. This painting is largely known as Frida's autobiography: scenes from her life, both joyful and painful, as well as symbolic figures are combined in a tableau reminiscent of an allegory by Hieronymous Bosch. These scenes float in a tub of bathwater in which she's soaking her battered, scarred feet: both her bath and her unflinching self-reflection are rituals both soothing and possibly agonizing.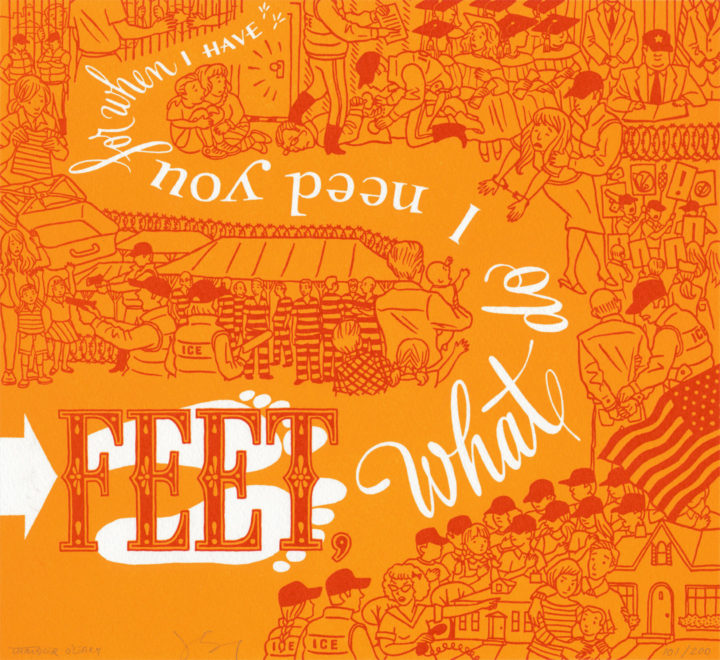 We tried to channel that unflinching gaze of Frida's when we created this broadside. We've highlighted intolerance toward Latino-Americans and Spanish-speaking immigrants before in our Adina De Zavala broadside, but whereas we mostly dealt in metaphor and veiled symbolism then—the gloves are off now. Every time we heard of some new cruelty directed towards Latinx populations, our fury and disgust grew, and we funneled that rage into the design itself. The lower half of the illustration comes right out and says it: faceless ICE agents in red MAGA baseball caps arrest and threaten and round up and brutalize people, while civilians rat out their neighbors, carry tiki torches, turn a blind eye to injustice, or sign executive orders with their tiny hands.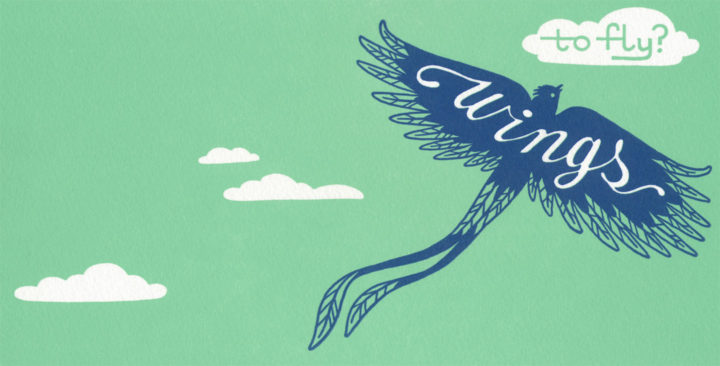 That said, our design is still filled to the brim with symbolism and layers of meaning, starting with the title. Estados Unidos is "United States" in Spanish, but we are anything but united right now—so our title is the Spanish translation of "Divided States." Also, the bird taking wing is a quetzal—an ancient Mayan symbol of liberty and a more modern emblem of Central and South American culture. And because right now the whole world is upside-down, we've turned our paper upside-down, too. The deckle, that natural rag edge from the paper mold that you normally find at the bottom of our broadsides, is now at the top. (We think it gives Frida's cloak a nice fluttery quality as her portrait presides over the composition.) The folksy, children's-book illustration style contrasts sharply with the content of the lower half of the design. This is a jab at American exceptionalism and the fairytales we tell ourselves about who counts as "us" and who gets lumped in with "them." That contrast of cheerful colors and serious subject matter is yet another nod to Frida's life and work: she has frequently been referred to as "a ribbon around a bomb."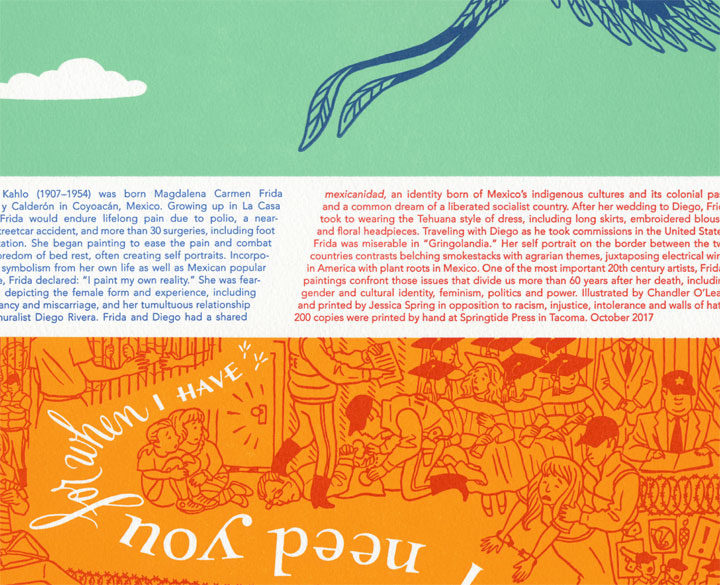 The two separate color schemes represent two worlds: Mexico and what Frida called "Gringolandia," peace and war, heaven and hell, tolerance and bigotry, freedom and captivity, friend and foe.  Like a flag—or a war zone—the two full-bleed color fields are sharply bifurcated by a no-man's-land of Whiteness, representing the border wall of white supremacy that has long since been erected in America. Yet if you follow Frida's words and footprints, starting in the trouble below and heading upward, you'll find a way through—a path across the divide.
In recognition of this challenging duality, we are donating a portion of our proceeds to two different nonprofit organizations. One is Border Angels, a San Diego-based organization that provides free bilingual immigration services and consultations, as well as migrant and day-laborer aid and outreach—including border rescue stations and desert water drops. The other donation supports Northwest Immigrant Rights Project, a Seattle-Tacoma-based advocacy group that provides legal assistance to community members facing deportation. This is our second donation to NWIRP, acknowledging the very important and difficult work they tackle, especially in our hometown of Tacoma, at the Northwest Detention Center.
Purchase your copy in the shop!
• • • • • • • • • • • • • • • • • • • • • • • • • • • • • • • • • • • • • • • • • • • • • • • • • • • • • • • •
Estados Divididos: No. 26 in the Dead Feminists series
Edition size: 200
Poster size: 10 x 18 inches
Printed on an antique Vandercook Universal One press, on archival, 100% rag (cotton) paper. Each piece is numbered and signed by both artists.
Colophon reads:
Frida Kahlo (1907 – 1954) was born Magdalena Carmen Frida Kahlo y Calderón in Coyoacán, Mexico. Growing up in La Casa Azul, Frida would endure lifelong pain due to polio, a near-fatal streetcar accident, and more than 30 surgeries, including foot amputation. She began painting to ease the pain and combat the boredom of bed rest, often creating self portraits. Incorporating symbolism from her own life as well as Mexican popular culture, Frida declared: "I paint my own reality." She was fearless in depicting the female form and experience, including pregnancy and miscarriage, and her tumultuous relationship with muralist Diego Rivera. Frida and Diego had a shared mexicanidad, an identity born of Mexico's indigenous cultures and its colonial past, and a common dream of a liberated socialist country. After her wedding to Diego, Frida took to wearing the Tehuana style of dress, including long skirts, embroidered blouses and floral headpieces. Traveling with Diego as he took commissions in the United States, Frida was miserable in "Gringolandia." Her self portrait on the border between the two countries contrasts belching smokestacks with agrarian themes, juxtaposing electrical wires in America with plant roots in Mexico. One of the most important 20th century artists, Frida's paintings confront those issues that divide us more than 60 years after her death, including gender and cultural identity, feminism, politics and power.
Illustrated by Chandler O'Leary and printed by Jessica Spring in opposition to racism, injustice, intolerance and walls of hate.